Malaysian automotive company Proton is facing a series of challenges including dealership resignations, customer complaints, and delivery delays.
This has led to uncertainty and anxiety among customers many of whom are wondering what will happen to their orders.
Why are Proton dealerships resigning?
Proton dealerships have cited a variety of reasons for resigning, including:
Delivery delays
Financial discrepancies
Professional differences
These issues have made it difficult for dealerships to operate profitably and have also damaged their reputation with customers.

A circular is going around on social media that says that the automotive company is closing all of its dealerships and cannot deliver the cars that people have ordered.
Proton says this circular is fake, but it is making people worry about the stability of Pakistan's car market.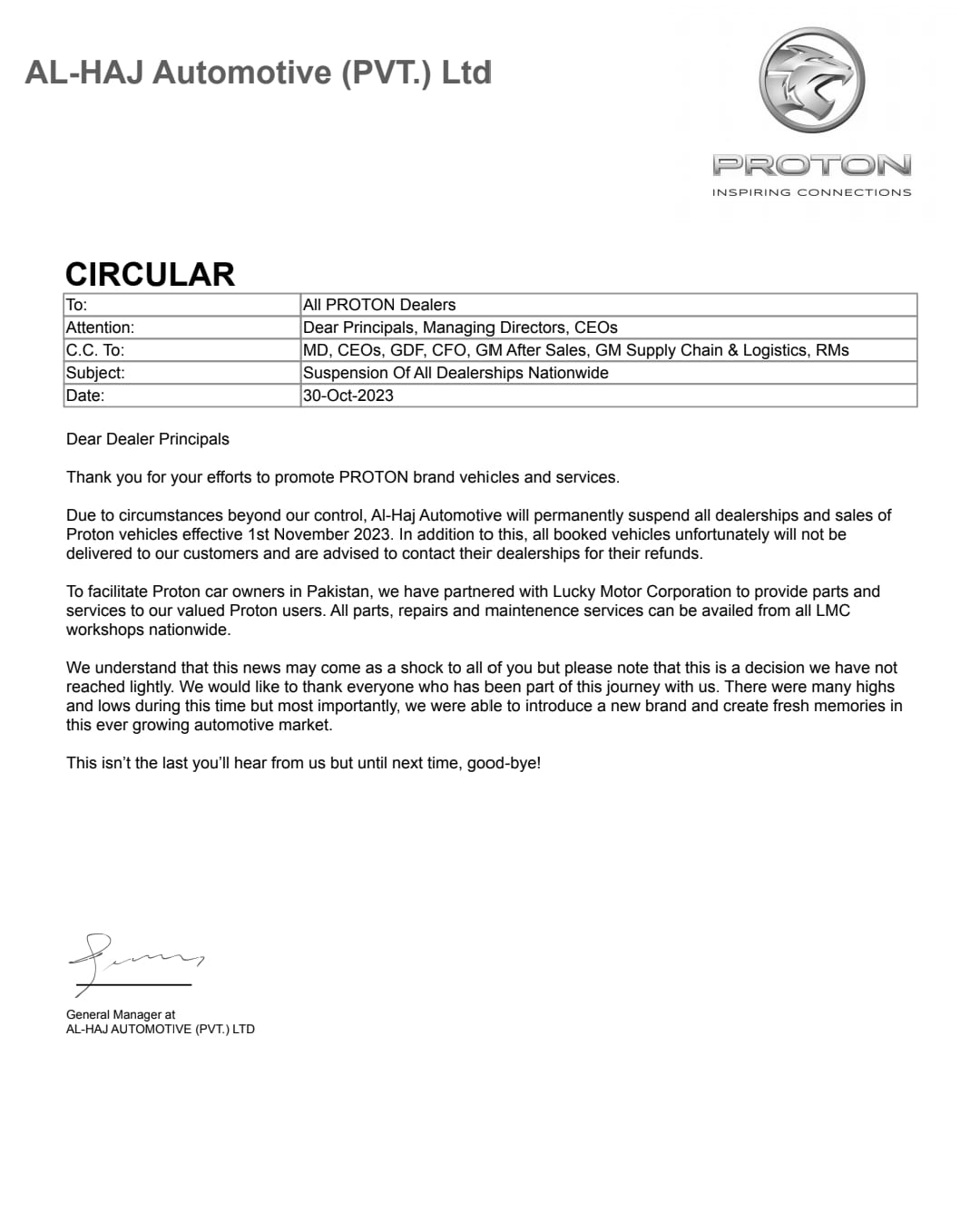 However, Proton has faced other problems in Pakistan before. Last month, two dealerships stopped working with Proton because they had different ideas about how to run the business.

What are customers' concerns?
Customers who have ordered Proton vehicles are understandably concerned about the current situation. Their primary concerns include:
Delivery delays
Financial losses
The future of Proton in Pakistan
Many customers have already paid deposits for their vehicles and are now facing the possibility of long delays or even losing their money if Proton is unable to deliver on its commitments.
What is Proton doing?
Proton has stated that it is committed to fulfilling all of its commitments to customers and dealers. The company has taken the following steps to address the situation:
Increased production capacity
Improved communication with dealers and customers
Established a customer support team to resolve issues quickly and efficiently


What can customers do?
Customers who are concerned about their Proton orders should take the following steps:
Contact Proton customer support for updates on their order status
Review the terms of their purchase agreement
Consider cancelling their order if they are not comfortable with the risks involved